Ninjala trailer introduces Rurouni Kenshin collaboration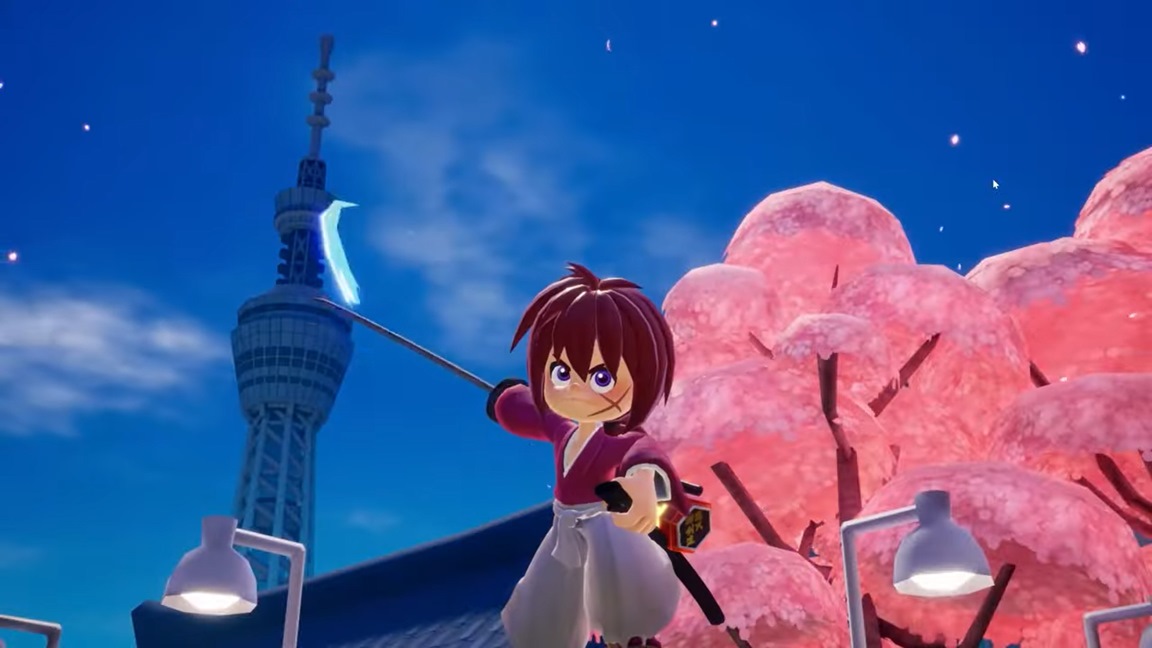 Ninjala kicked off its new collaboration with Rurouni Kenshin today, and to celebrate, GungHo has readied a new trailer.
The Shinobi Shop
Rurouni Kenshin fans can show their love for the classic manga series with a Rurouni Kenshin t-shirt, available in the Shinobi Shop for 500 Jala. Three new costumes are available for 2,000 Jala each:
Kenshin Himura
Hajime Saito
Aoshi Shinomori
Players can join the former legendary assassin on his mission to protect and aid those in need by wielding his reverse blade katana with the Sakabato Bottle for 800 Jala. Show off your sword technique with these Emotes for 500 Jala each:
Amakakeru Ryu no Hirameki
Gatotsu
Kaguzuchi
Deliver the final blow with two IPPON Decorations, only 500 Jala each. If you have 800 Jala to spare for each of these Gum Utsusemi, you can transform into your favorite Rurouni Kenshin swordsmen:
Utsusemi! Kenshin Himura
Utsusemi! Sanosuke Sagara
Utsusemi! Sojiro Seta
The Gumball Machine
The Gumball Machine's exclusive Makoto Shishio costume is a must-have for fans of the ruthless and cold-blooded antagonist. There's also a chance to get the following weapon skins:
IPPON Gum (Kenshin)
SK8 Gum (Sanosuke)
Drill Gum (Hajime)
Scroll Gum (Aoshi)
Shinobuzz Gum (Shishio)
Rurouni Kenshin Cup and Other Events
The Rurouni Kenshin Cup begins January 9—this special Ninjala tournament rewards winning players with the Kaiten Kenbu Rokuren Emote, the Rurouni Kenshin・Ororo sticker, and these unique IPPON Decorations:
Tournament Memorial: Gold (Kenshin)
Tournament Memorial: Silver (Kenshin)
Tournament Memorial: Bronze (Kenshin)
Tournament Memorial: Purple (Kenshin)
Depending on the number of battles played, players can also receive three Shinobuzz Gums (Shishio), the Rurouni Kenshin・Code sticker, and up to 200 Gacha Coins. Grab your katana and slash your way up these tiers to unlock the rewards:
1 Battle: 20 Gacha Coins
5 Battles: 30 Gacha Coins
10 Battles: 3 Shinobuzz Gums (Shishio)
20 Battles: 50 Gacha Coins
30 Battles: 100 Gacha Coins
40 Battles: Rurouni Kenshin・Code sticker
Watch the trailer for the Rurouni Kenshin collaboration in Ninjala below.
Ninjala is available on Switch as a free-to-play title.
(Visited 1 times, 1 visits today)