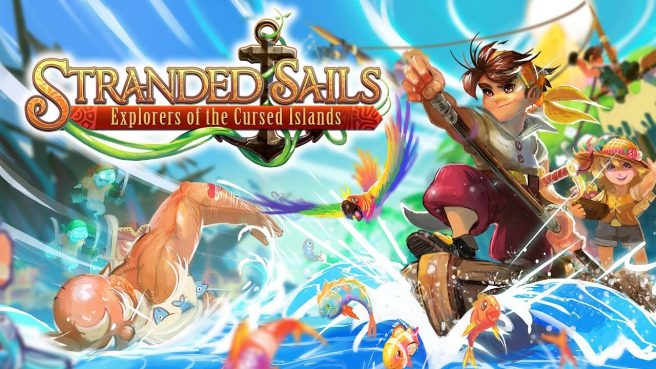 A new update for Stranded Sails recently went live on Switch, bringing the game to version 1.0.6. It technically includes two patches in one. In addition to the "Foundation Update", it comes packaged with the "Completion Update" as well.
Below are the full patch notes for the Stranded Sails version 1.0.6 update, along with trailers:
Foundation Update

You can now enter and decorate your crew member's shacks!

Collect more than 60 unique decorations from 8 different styles!

New Relationship System!

Improve your relationship with each crew member by earning relationship points for decorating their shack!

Reach relationship milestones to benefit from up to 24 unique and powerful perks from your crew!

Discover each crew member's style preferences to make each shack as cozy as possible and unlock an alternative ending to your quest!

New Item Type: Gifts!

Discover 12 new and different gifts while adventuring!

Give your crew members gifts they love to unlock new decorations and complete your collection!

New Crew Reactions!

Your crew will react to your gifts and decorations with a total of 30 new and unique animations for each character!

New Activities On The Cursed Islands!

Explore the islands to find 6 new rewarding activities like "Monkey Chase" or "Watchful Seagulls"!

Complete these island activities to acquire shiny plunder, the essential component for creating decorations!

New Collectibles and Outfits!

Explore the Cursed Islands to find new hidden collectables!

Complete a collectable set to unlock one of 3 new wearable outfits!

Underwater areas have become more detailed!

New vegetation has been added to underwater areas around all islands!

Completion Update

Crew member ingredient preferences are now tracked and visible in the inventory when preparing a stew.

Up to 9 ingredients can now be added per crew member to further increase the crew happiness and stew duration.

The stew duration now increases by 1 hour per ingredient and has a limit of 24 hours.

Your crew's happiness is no longer limited by main quest progression.

When leveling up the crew happiness, you now earn a reward tokens.

Unlocked stew rewards can now be freely purchased with reward tokens instead of being unlocked linearly.

Added a new stew reward screen to view and purchase stew rewards, accessible via the regular stew menu.

Added new unique stew rewards.

Added repeatable stew rewards to allow the player to trade reward tokens for components, fish, key shards and more.

Added a separate option for collecting your stew reward when talking to a crew member.

New Personal Shack!

New Relationships!

New Decoration Sets!

New Furniture Variants!

New Outfits!
The Stranded Sails version 1.0.6 update can be downloaded by all Switch players now.
Related